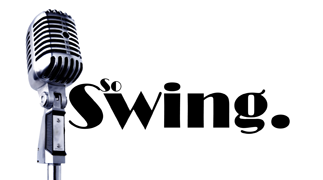 The Rat Pack - with a twist!
SO SWING is a stylish, witty and sophisticated cabaret featuring all the great swing hits mixed with well known classics. An entertaining evening of great songs with three charismatic performers providing their own twist on the popular Rat Pack theme, adding a touch of romance.
This show stands out from other 'Rat Pack' style shows as it has a female performer to represent the great divas of the same era.
SO SWING are three great friends who have a wealth of experience in theatre, cabaret and concerts. They enjoy performing together, and this is apparent in the easy going style of the show. Their witty banter, rapport and chemistry ensures that the audience enjoy a unique cabaret experience.
Whether it's an intimate dinner for friends, a corporate awards ceremony or a full party, SO SWING will make sure that the guests at your event will remark on (in the words of Sinatra and Crosby) 'what a swelligent, elegant party this is'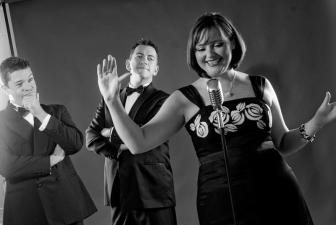 SO SWING offer a comprehensive play list of songs from which to choose your favourites, including: 'Swell Party', 'Under my Skin', 'Something Stupid', 'Things', 'My Way', 'New York, New York' to name but a few. They also include songs from some of the more recent Swing singers including Michael Buble and Caro Emerald, ensuring their cabaret is up to date and enjoyable for all ages.
Bespoke entertainment
We understand that all events, venues and budgets are different. Therefore we will work with you to create a suitable cabaret for your event. SO SWING is available as a one hour show, 2 x 45 or 2 x 30 min sets, or however you would like it! Perhaps your guest would enjoy some entertainment between courses of dinner, followed by a lively set to lead in to dancing?
SO SWING can be performed as a two piece (one male and one female) or a three piece ( two males and one female), to fully engineered backing track, or accompanied by live musicians with the fabulous SO SWING Trio. 
SO SWING - at Christmas
Interested in booking SO SWING for your Christmas party? We suggest SO SWING - at Christmas - click here for more information.
Swell Party - SO SWING,The Album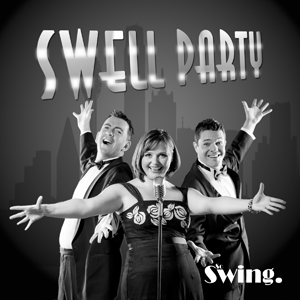 Many of you have asked if we have an album of our tracks. We are pleased to announce that we do now! Our first album is called 'Swell Party' It features all your favourites including 'Me and My Shadow', 'Sway'and our acclaimed version of the classic 'My Way'.
Buy your copy now – just £8